BudTrainer's Retailer Tips
Embrace The Green Rush: Seizing Opportunities In Connecticut's Home Grow Market
by Henrique Dias on Jul 14, 2023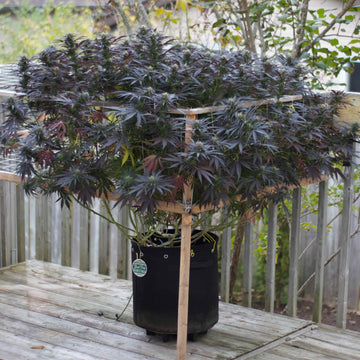 Hello, (future) Connecticut Hydroponics Retailers! There's exciting news on the horizon as the state expands its cannabis cultivation laws to include non-medical patients. This promising development means that more Connecticut residents will be exploring home cannabis cultivation, potentially sparking a wave of enthusiastic new customers at your doorstep.
Adjusting to the New Regulations
Connecticut has recently allowed non-medical patients to cultivate their own cannabis at home, with a limit of three plants in the flowering stage and three in the vegetative stage. This exciting change complements the existing legislation that permits medical patients to engage in home cultivation, a privilege they've enjoyed since 2021.
How to Prepare Your Store

Now more than ever, it's crucial to ensure your stores are equipped with the products, knowledge, and expertise to support this surge of novice growers. To effectively meet this demand, consider the following:
Stock up on beginner-friendly products. Ensure you have a variety of entry-level grow kits, nutrient packs, lighting options, and essential tools readily available. Many people who never grew before will try it now.

Educate your staff. Your team should be ready to answer a range of questions from beginners about hydroponic systems, plant nutrition, pest management, and more. This is when being helpful is most important.

Offer guides and literature. Consider providing educational materials that cover the basics of hydroponics and cannabis cultivation. This could include printed guides, instructional videos, or interactive workshops.

Promote cultivation legality. Make it a point to inform your customers about the state's cultivation laws. Encourage them to stay within legal limits and practice responsible growing.

Highlight premium products. For growers who are looking to up their game, showcase high-quality, innovative products like BudTrainer's BudClips®. These durable clips, made from recycled plastic in Canada, are built to last 10+ years and offer a unique interlock feature that allows a "mainline split" - a technique prized by seasoned cultivators. Also make sure to check out our premium BudPots® and BudHuggers®. 
Final Thoughts
As Connecticut paves the way for home cultivation among non-medical cannabis users, hydroponic retailers should seize this opportunity to cater to a wave of fresh, enthusiastic growers. By preparing your stores and equipping your teams with the right knowledge and tools, you can ensure you're at the forefront of this green rush, providing crucial support to the thriving community of home cannabis cultivators in Connecticut.
For those looking to equip their shops with BudTrainer's premium, eco-friendly products, please reach out to us by emailing wholesale@budtrainer.com. Let's grow together in this blossoming cannabis cultivation era!