AVAILABLE NOW
Introducing the BudCups™: the world's only self-draining, shock-free transplant cups that allow your roots to thrive. Get your BudCups before the crowdfunding campaign ends on Dec 22, 2023 at 11:59pm!
Get Your BudCups™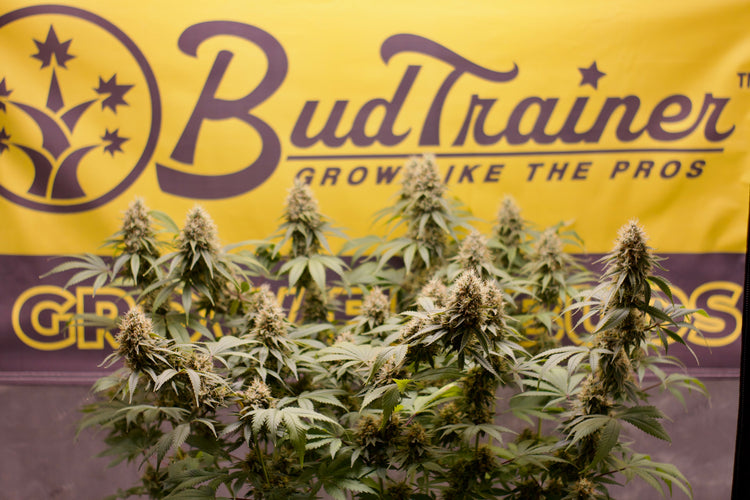 Grow The Biggest Buds of Your Life
BudTrainer's gardening products make it easy to manipulate your plants and grow big buds
Every Big Bud Bundle includes:

- FREE Shipping! (US/CA)
- 4x BudPots (for 3ga, 5Ga, 7Ga)
or 2x BudPots (for 10ga, 15Ga, or 25Ga)
- 1x BudClips 20pk
- 1x BudHuggers 16ft
Translation missing: en.products.product.price.regular_price
$49.99 USD
Translation missing: en.products.product.price.sale_price
$49.99 USD
Translation missing: en.products.product.price.regular_price
$59.89 USD
How BudTrainer™ Works
With BudTrainer™, it's super easy to grow big buds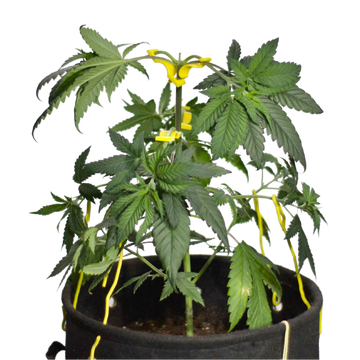 Week 4 to 6 of Growth
Step 1Main Stalk Setup
1 week after topping, use the BudClips® to spread the top branches and the BudPots® + BudHuggers® to tie down the bottom branches.
Get BudTrainer™
Week 6 to 8 of Growth
Step 2Branch Management
Re-tighten the BudHuggers® on the BudPots® (if needed), and reuse the BudClips® higher up on the branches.
Get BudTrainer™
Week 3 to 4 of Flower
Step 3Bud Support & Airflow
Remove the BudClips® and untie the BudHuggers® from the BudPots®. Tie opposite branches to one another with the BudHuggers®.
Get BudTrainer™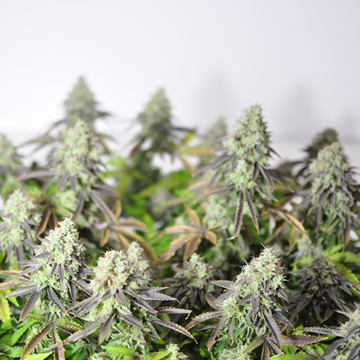 Week 8 to 12 of Flower
HarvestAnd you're done!
Enjoy a massive bush full of big buds and reuse your BudTrainer™ products for years to come.
Get BudTrainer™
Ditch the Ditch Weed
When hemp and BudTrainer™ get together, you get big buds
WITHOUT BudTrainer™
Ditch Weed
WITH BudTrainer™
Big Buds
So what is Ditch Weed? Ditch weed is nothing more than natural hemp that grows in the shape of a flimsy Christmas tree.
But if you care to spend a few extra minutes bending your branches with BudTrainer™, you can increase light penetration and airflow to your buds, and grow massive bushes instead.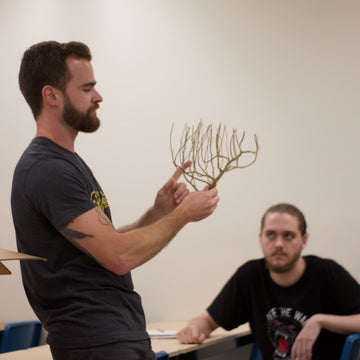 Don't know how to grow?

4 years ago, we only knew how to grow ditch weed. And it sucked. We grew so much ditch weed that we almost ditched growing completely. 
But we kept at it. We went to college for commercial hemp production and learned to grow like the pros. In just one year, we were growing big buds. Very big buds. 
Now we're here to help you. The BudTrainer™ Method is a seed-to-harvest guide to get you growing the biggest buds you've ever seen.
The BudTrainer™ Method
Grow Big Buds or Go Home
At BudTrainer™, we don't judge. Unless you're growing ditch weed.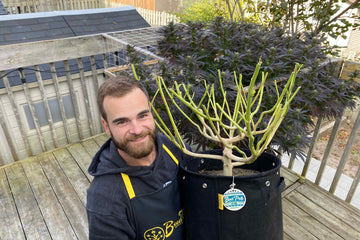 Most gardening brands don't care about growing big buds. They just make stuff to help you grow better ditch weed. But better ditch weed is still ditch weed. And ditch weed sucks. 
BudTrainer's products were designed to help you easily take your plants from ditch weed to giant bushes filled with big buds. Because we all want big buds.
Once You Grow Big, You Never Go Back

How long does shipping take?
Order before 2pm EST and we will ship your package within 48h.
Canada & US:If you chose $9.90 shipping over $50 or FREE shipping over $150, it should take 5 to 7 business days for the package to arrive. If you chose expedited shipping, it should take 2 to 3 business days. These estimates vary based on time of the year.
International: Please check the estimates during checkout.
Do you ship internationally?
YES!
Shipping outside Canada and US costs a fixed $49.90 Flat Rate - wherever you are!
* Please include any notes that we need to know in order to export to your country.
Do you ship in discreet packaging?
Yes! You will receive your products in an inconspicuous brown box, with no labels referring to BudTrainer.
Can I return my products?
YES!
If you are unhappy with your product or if your package arrives damaged, you have 30 days to let us know in order to be eligible for a full refund.
For more information on our return policy, please visit this page.
Does BudTrainer have a warranty?
YES!
If you find a manufacturing defect on your item within 12 months of purchase, you will be able to choose between getting a refund or an exchange.
Please see our warranty page for more information.
Are BudTrainer's products reusable?
YES!
BudPots - the 400 GSM thick fabric allows you to use and reuse your BudPots for up to 5 years.
BudClips - after using, just give them a quick rinse with soap to remove any plant material, and they will last forever.
BudHuggers - made to last for up to 5 years of use and reuse.
Is it legal to grow where I live?
If you are in the United States, follow this link for an updated list of legal states to grow your own.
If you are in Canada, the only provinces where you are not allowed to grow your own are Quebec and Manitoba.
What payment methods are available?
BudTrainer has an ultra secure payment gateway that accepts PayPal, VISA, VISA Debit, Mastercard, Matercard Debit, or American Express.
How big should my BudPots be?
It depends on how long you are going to keep your plants in the vegetative stage, and where you will plant.
2-4 weeks veg stage - 3Ga
4-6 weeks veg stage - 5Ga
6-8 weeks veg stage - 7Ga
8-10 weeks veg stage - 10Ga (outdoors)
10-12 weeks veg stage - 15Ga (outdoors)
12+ weeks veg stage - 25Ga (outdoors)
What if I break a branch?
Don't worry! Branch breaks happen all the time, and if you can't recover it, it means your plant will allocate more energy elsewhere (so it's never all a waste).
However, if there is still time, here is what you do:
1. Tape the broken branch together, ensuring that both broken parts are fully touching.
2. Don't tape too tight or too loose - just enough to hold it in place for a few days.
3. For best results, enclose the broken part of the branch in a ziploc bag, in order to maintain a high humidity environment until the plant heals back.
Have any other questions?
If you have any other questions, feel free to reach out directly to us at hello@budtrainer.com or via our contact page. We are usually pretty fast at replying!
Subscribe & Grow Bigger Buds
And be the first to know about new home-growing articles, product releases, and promotions
*DISCLAIMER


Everything taught and sold by BudTrainer is to be used strictly for legal purposes. We absolutely condemn the production of illegal substances, and it is your duty, as a customer of BudTrainer, to ensure that you are complying with your local law.

From the FDA's Website (link):
"At the federal level, the Agriculture Improvement Act of 2018, Pub. L. 115-334, (the 2018 Farm Bill) was signed into law on Dec. 20, 2018. Among other things, this new law changes certain federal authorities relating to the production and marketing of hemp, defined as "the plant Cannabis sativa L. and any part of that plant, including the seeds thereof and all derivatives, extracts, cannabinoids, isomers, acids, salts, and salts of isomers, whether growing or not, with a delta-9 tetrahydrocannabinol concentration of not more than 0.3 percent on a dry weight basis." These changes include removing hemp from the CSA, which means that cannabis plants and derivatives that contain no more than 0.3 percent THC on a dry weight basis are no longer controlled substances under federal law."